So yeah, I am sure y'all know about this but no one has said anything yet so... here it goes

Gwen Stefani and Marie Claire magazine are raising money for the victims of the Tsunami. Gwen designed a shirt for Marie Claire and all the proceeds go to the fund. It is only $14.95 and is an actual LAMB shirt.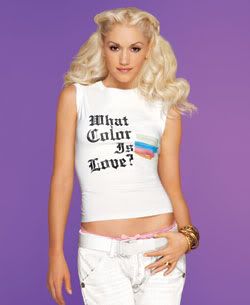 To order, call (800) 727-1274. All major credit cards accepted. Or, send a check for $14.95 (plus $4.95 s&h) made payable to Marie Claire June 2005 Fund-Raiser. Specify size: XS, S, M, L, XL. Mail it to:

Marie Claire 6/05 Charity Offer
Dept. MC605
Item no. MC009XS (for extra-small), MC009S (for small), MC009M (for medium), MC009L (for large) or MC009XL (for extra-large)
P.O. Box 10799
Des Moines, IA 50340-0799

Allow six weeks for delivery. Sorry, no returns.